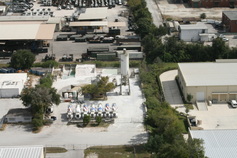 Andrew General Contractors recently completed an interior buildout for our new Orlando office. The buildout included demolition of existing offices, structural improvem ents, repair of the existing EIFS system and roof, and construction of 4400 square feet of new office space.
The team at Andrew GC delivered our project on time and on budget. From pre-construction to project close out, Andrew GC was well organized, detailed in their document management, and proactive in handling the schedule and costs. They anticipated and communicated construction issues early and provided solutions that kept our project moving. They established and maintained a consistent line of communication that made decision making efficient.
John Sokol, our project manager, was very knowledgeable and professional. John was able to incorporate our design changes throughout the process and offer cost saving solutions without sacrificing quality or craftsmanship. John's attention to detail and care was instrumental in delivering a uniformly high quality finish.
Working with Dave, Matt & John on this project was a true pleasure. I would highly recommend Andrew GC for any future projects.
Troy W. Maschmeyer Jr.
President
Maschmeyer