BUILDING LONG-LASTING RELATIONSHIPS
Providing quality construction services
From ground-up construction to interior build-outs and renovations, Andrew General Contractors delivers commercial projects on budget and on schedule. We specialize in personal and proactive service that takes the stress out of your construction project.
We understand that your vision can change after construction has begun. To accommodate evolving changes, we customize our recommendations to reflect your specific needs and timetables.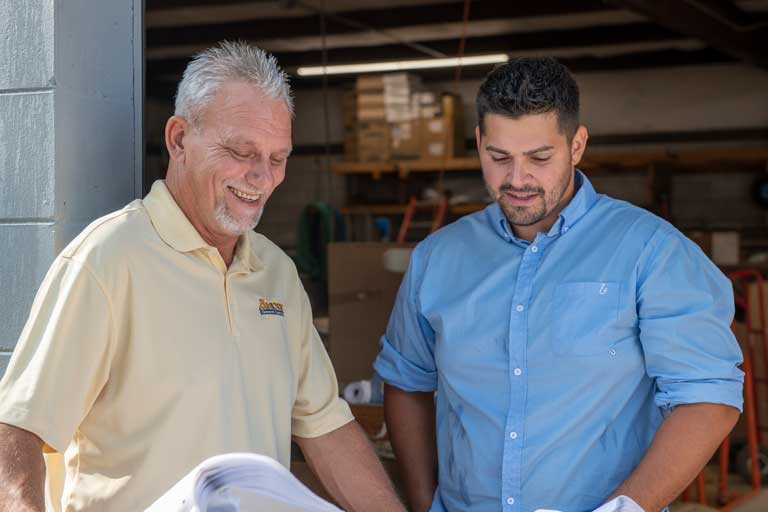 Project Types
Ground-up Construction
Ground-up construction, also referred to as a "Greenfield Site," is the process of building a new structure on a parcel of land where no building currently exists. Ground-up construction allows the stakeholders to have full control over the design to suit your choice of building program specifications. Building from the ground up begins with a clean slate for your vision and results in a building that is tailored to your exact needs. Design-Build, Design-Assist, and Bid-Build are all design options for ground-up building with Design-Build as the most efficient, expedient, and cost-effective.
Integrated Project Delivery
Integrated Project Delivery, commonly referred to as "IPD," is the process by which the: owner, design team, general contractor, and trade partners share liability and work as one firm. IPD leverages technology and building information modeling, referred to as "BIM," to quickly and easily share information between project participants and increase productivity throughout the construction process. The BIM model is shared by all stakeholders and IPD represents a return to the "master builder" concept where the entire building team works collaboratively throughout the design and construction process. Key to the IPD project is the Tri-Party agreement that establishes equal liability in the IPD process.
Interior/Tenant Build-Outs
Many tenants and business owners choose to lease or rent space in an existing property or building. Selecting to rent or lease an existing space is more economical and time-efficient; however, rarely does the space meet all your needs. Interior and tenant build-outs are performed on the existing space to modify the layout to meet your needs, and after selective demolition of the existing finishes may include: non-structural modifications or walls, painting, flooring, plumbing, mechanical, and electrical work. We can perform turn-key interior and tenant build-outs using the Design-Build delivery method or you can hire an architect to design your space and have us provide a proposal based on the drawings.
Comprehensive Renovations
Build-outs and renovations are similar; however, they are two slightly different types of construction. Comprehensive renovations take the build-out process one step further by significantly transforming the condition or use of a building or space that is in disrepair or outdated. During a comprehensive renovation, all mechanical, electrical, and plumbing systems are replaced and realigned to meet the needs of the updated design. The team will also perform an extensive evaluation of the building envelope, commonly referred to as "building shell," for deficiencies and opportunities to upgrade the energy performance. Comprehensive renovations are aligned with our sustainability values by repurposing outdated buildings in our communities, reducing the overall impact on the environment.
Let's work together
If you have a project in mind, get in contact with Andrew General Contractors, Inc. today! When it comes to quality work, we are the first you should call. We are looking forward to hearing from you.